RCE received a Commendation: Innovation in Concrete at the 2017 Fulton Awards.
While slab track has been constructed on a limited basis, mainly in tunnels, for some decades, its wider application on open lines has been resisted due to high construction costs. In this case, the decision to use continuous slab track over a section of track in Pretoria to address level issues at platforms and to reduce stray currents made it the first application of continuous slab track on open track in the country. The PY track slab system makes use of a number of construction innovations which are unique in the world and which reduces the cost of slab track construction to a level which is competitive with ballasted track. The most important innovation in construction of the slab is that the track fastenings are cast directly into the concrete at the time of construction with the aid of simple and extremely innovative construction jigs which also facilitate the achievement of the profiled surface.
Click here for more information.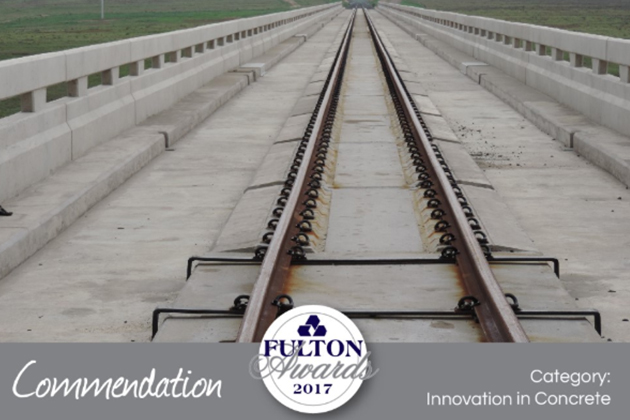 The prestigious annual SAICE/SAFCEC Awards gala event for the Most Outstanding Civil Engineering Achievements for 2015/2016 was held at Emperors Palace, Kempton Park on 13 October 2016 and attended by industry leaders and dignitaries from across South Africa.
SAICE received more than 30 project entries from across the country to compete for these illustrious awards. It included awards for international and technical excellence, as well as community-based projects. On top of that there were awards for the Engineer of the Year and other individual awards, as well as awards for projects entered by the SAICE technical divisions.
RCE is proud to announce that it was winner in the Railway and Harbour Division category for The Reconstruction and Deepening of Maydon Wharf Berths 1–4, 13 & 14. The R760 million rehabilitation of berths at Maydon Wharf in Durban harbour consisted of demolishing the existing quay structure, the removal of old timber piles, installing a new steel combination wall with concrete cope beam and back of quay layer works. The RCE design included the use of the Müller Verpress Pile, a first for South Africa.
Project team: Transnet Capital Projects, RCE Consultants and Stefanutti Stocks Axsys JV.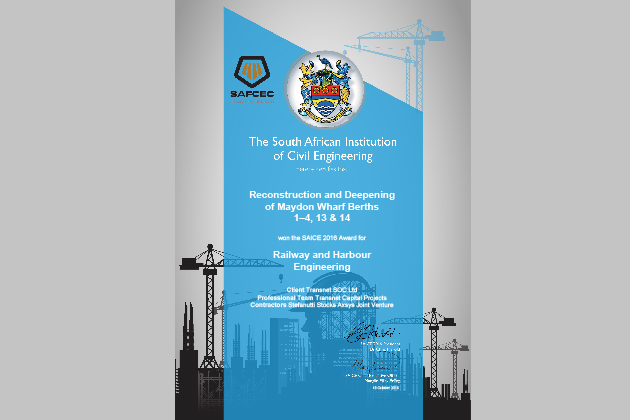 RCE has done the design and planning of numerous rail and port related engineering projects. We pride ourselves with the fact that many of these have successfully been implemented. Selected project highlights are: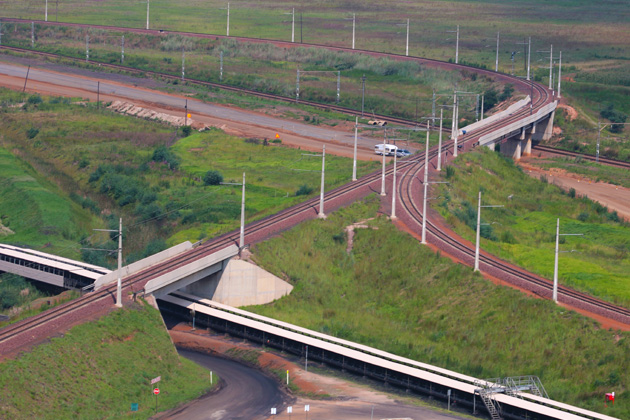 The Anglo Coal / BHP Billiton facility in the vicinity of Ogies, Mpumalanga, has the highest coal to rail load-out capacity in Southern Africa. RCE performed the initial feasibility studies and thereafter the design and implementation of the rail siding and associated equipment. The siding was completed in 2008 and has an off-loading capacity of 14 Mtpa.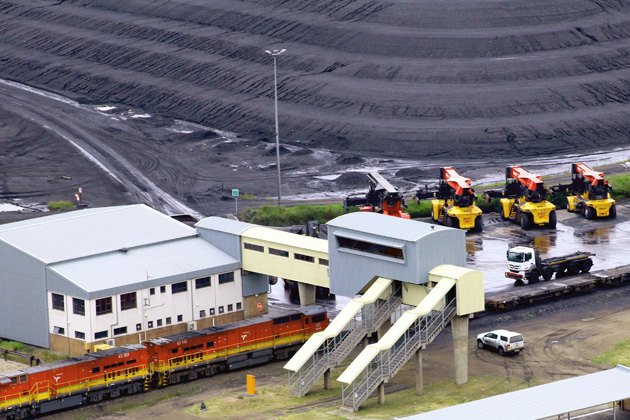 Public road safety considerations obligated Eskom to change the supply of coal to power stations from road to rail. This involved the re-design of materials handling and flow processes in conjunction with rail siding design and construction under power station operational conditions.
The aim of the project has been to create a rail corridor connecting the Mpumalanga coal fields to the port of Richards Bay via Swaziland. RCE Consultants performed a diverse selection of railway engineering and related work including greenfields route selection and perway design, brownfields route re-alignment and up-grades, earthworks, structures (including incrementally launched viaducts) and constructability analysis. In addition, demand forecasting, traffic studies, train handling and design, operations design, costing, contract strategy, risk assessment and legal compliance review were, amongst others, also performed.